Abstract contemporary painting evoking Tuscany
Aldo Ezio Conelli "detto il Moriggia" (so the name of his ancient family on Lake Maggiore) was born in Milan in 1936.
Following a career in architecture and politics and with profound interest in philosphy, history, literature and poetry, Aldo has metamorphosised into a very accomplished painter and has sold paintings to clients throughout the world.
Since 1977 he has his home in Ticino, Switzerland, but lives part of the year in marvellous Tuscany, where he also shows his work.
His great passion for painting was a legacy from his grandmother – an art student in Paris at the end of the 19th century and painter herself – who initiated him into painting as a small boy, awakening his wonder at the essence of Beauty.
One of Italy's most renowned architects Mario Asnago, also a painter, became a mentor and a friend, influencing Aldo's work in his search for geometric space built on harmony. He has always striven to instill Poesy (according to S.T. Coleridge) into his work; his painting style has become progressively more abstract.
---
PERSONAL EXHIBIT
A personal exhibit took place at
famous Castello di Montebello (UNESCO)

Bellinzona, Ticino, Switzerland
July and August 2018
Conelli's work
has been exhibited in Tuscany
(mainly San Gimignano)
since 1994.
Responsabile della trasmissione "Bell'Italia"
Dott. Marco Hagge (Giornalista RAI)
"… each painting contains a philosophical thought…"
I quadri di Aldo Ezio Conelli sembrano dipinti per caso, come se si fossero formati da soli. La prima impressione è quella di trovarsi davanti una campitura di colori variegati, come capita quando si apre la finestra su un paesaggio che non si conosce. Il disegno appare in un secondo momento: è una presenza che si rivela con discrezione, fatta di pochi tratti leggeri, quasi incisioni nella materia cromatica.
Materia che si addensa e si assottiglia, si adombra e si schiarisce, indicando la direzione del viaggio fra le tonalità che si succedono senza sosta, rifluendo l'una nell'altra. In effetti, ogni quadro di Aldo è un mondo da esplorare, seguendo le tracce di un percorso coerente e ben articolato. Come in tutti i viaggi, le sorprese non mancano. Oltre la prima impressione di solidità, tutto vibra. Ogni pennellata è diversa dalle altre, in un andamento che la vis pittorica dell'artista, inquieto e incontentabile, conduce fino all'esaurimento delle possibilità offerte dal gioco dei colori, che si incontrano e si scontrano, dialogano e "dibattono" in una dialettica che è poi la ragion d'essere dell'opera.
Arte raffinata, riflessiva: ogni quadro, concepito come un piccolo trattato di filosofia (grande passione, questa, di Conelli, certamente singolare per un pittore), riesce a tradurre felicemente l'intenzione comunicativa in puri termini pittorici, con una eleganza che evita ogni rischio di "deviazioni" letterarie o peggio ancora i vicoli ciechi dell'ideologia. Ogni scoria di "significato" si consuma e diventa forma, attraverso una tecnica paziente, che nell'apparente semplicità attinge il risultato più alto: quello dell'arte che fa dimenticare se stessa.
Former Responsible Department of Culture, San Gimignano
Prof. Gianna Coppini
---
"As an architect and as an artist in one person…"
Aldo Ezio Conelli's vision of life often have the Tuscan farmhouse as a focus, set in the unique landscape of Tuscany, and especially evoking the scenery of Volterra in all its colours and forms. The dark green of his cypress trees and the dramatic yellow of the hillsides are often softened by other tones which embrace and unify the whole. The first impression of his work is extremely poetic, but beyond that you can also feel the rational construction of his paintings which are based on ConeIli's strong philosophical thoughts. As an architect and as an artist in one person, Conelli becomes an artifex, according to this medieval expression in its true and noble meaning.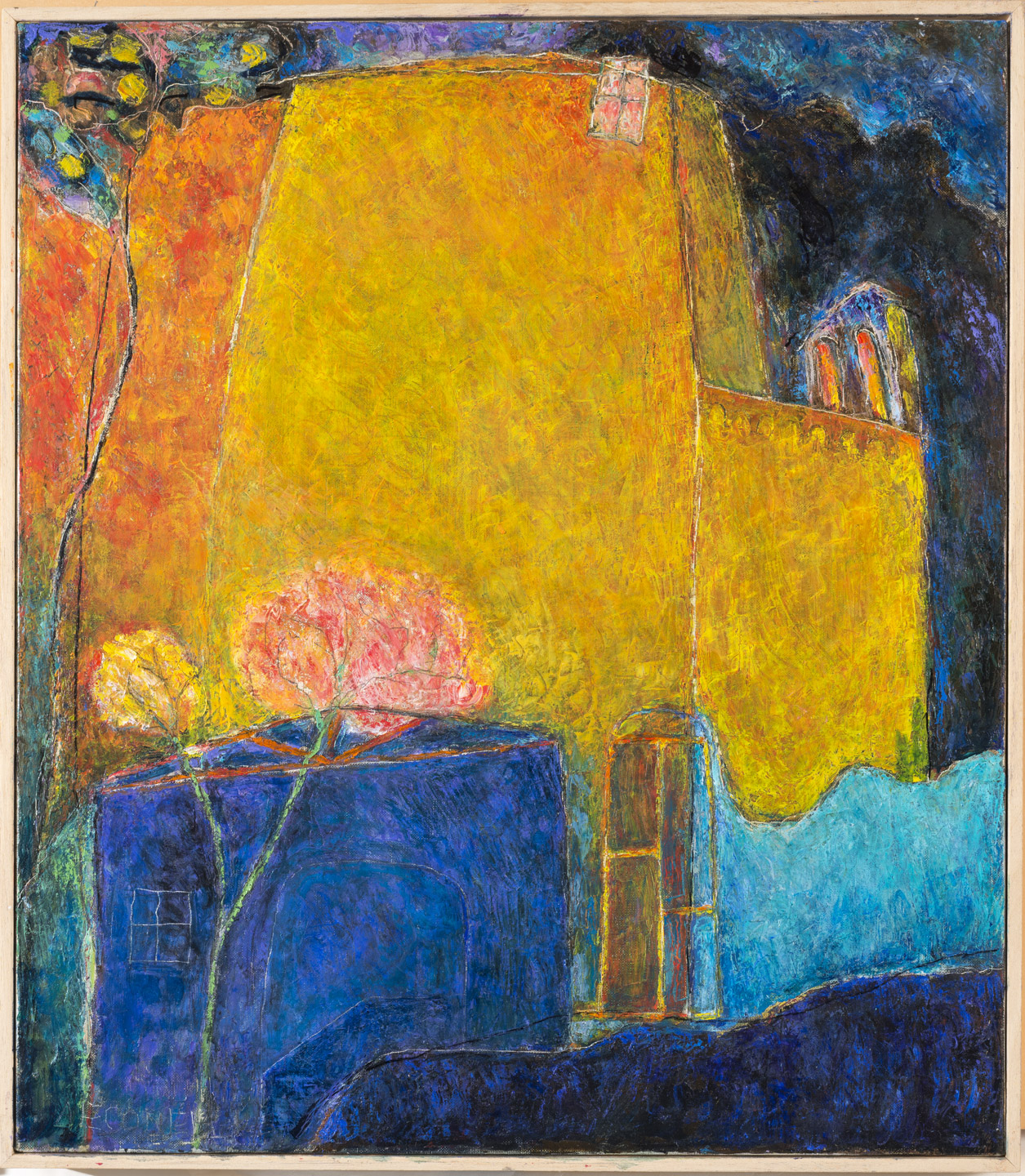 Former Responsible Department of Culture, Castellina in Chianti
Prof. Vanna Bianciardi
---
"His chromatic palette is like a flame…"
It is not easy to talk with Aldo Ezio ConeIli "detto il Moriggia" (from his family name which originated beside Lake Maggiore). Shall we discuss art, philosophy or religion? He speaks and listens, feeling that his challenging artistic task is to combine painting and "poesy" so that they express harmony. There are signs that are at times barely noticeable but can also be very powerful, so that they, do not just represent Tuscany but evoke it. They must meet his strict aesthetic sense while still satisfying his continuing search. The balance in his paintings is soft, even poetic : a vague stone building, a way towards the Infinite as expression of his search for unreal contacts, some flying cypress trees or windows full of light, where silence prevails above all... His work reminds one at times of Chagall, but instead of singing, laughing and dancing figures, there is an abstraction of silence in Conelli, with brilliant colours. His chromatic palette is like a flame, where red, rose and yellow are at the same time tender and aggressive, with light or strong black and dark green signs. His blue tones are never cold. When visiting Conelli's exhibition at the medieval castle of Castellina in Chianti, his paintings welcome you in the rather dark room and at the same time make you walk towards the light.



A London art critic
---
"Tuscan landscapes … spiritual territory that recalls the dreamscapes of Chagall…"
Aldo Conelli has been described as "the artist who catches Tuscany's colours best". His paintings are certainly intensely evocative of the area, but they are by no means merely topographical. These are abstracted, expressive landscapes - "spiritual territory" that in someways recalls the dreamscapes of Chagall.

Yet Conelli's paintings are the culmination of very different artistic concerns. His search is for "the secret arithmetic that lies behind all beautiful things", universal values that offer "a glimpse of the divine". This is explored through different lanscapes, each with a significance and "poesy"of its own. Layer upon layer of paint is applied until colours seem to reverberate with emotion, yet this built surface is often deliberately disturbed with a series of near-geometric scratches into the canvas.
These underline the essential compositional structure of the paintings, but they also hint at a unifying pattern that is not the artist's invention, but a "sacred geometry" through Just Measure and Divine Proportion.